Look for the Smart Choice logo in store for great quality products at fantastic prices.
Smart Choice is a range of fantastic carpets exclusive only to Members of the prestigious Associated Carpet Group (ACG). These carpets represents excellent value for money with outstanding quality.
As an accredited ACG approved retailer you will enjoy the benefits of excellent levels service offering a fantastic choice of flooring products. ACG is a strong and influential group of quality Independent retailers who as a collective have negotiated excellent purchasing arrangements and business support from the main UK suppliers.
The carpets have been carefully selected for quality and value. The product ranges are available in a variety of polypropylene, wool twists, and wool loops supplied from ACG preferred suppliers representing the very best of the Carpet Industry.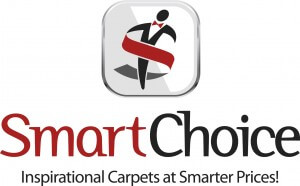 So ask in store and we'll be happy to show you the ranges. Alternatively you can visit www.smartercarpets.co.uk to view the extensive product collections available to you.